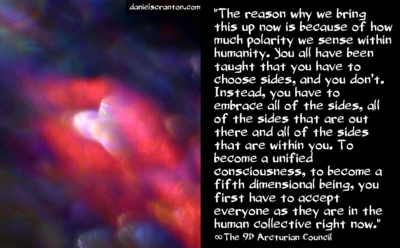 "Greetings. We are the Arcturian Council. We are pleased to connect with all of you.
We have a better sense of who you are as individuals than we do of you all as a human collective. Your individuality is beautiful. You are all unique, and you are all special, but you have also been led to believe that your differences somehow are responsible for the lack of unity that you sometimes experience as individuals. And nothing could be further from the truth because you all have the ability to celebrate each other no matter what.
You don't have to see your differences as weird, and you don't have to see someone else's different belief as a threat to yours. These are choices that you've been making, and you've been making those choices as individuals.
And the idea that you are somehow separate from each other is one that has served…
View original post 223 more words